Today isn't exactly a pleasant day, but I thank God that I've made it through so well. Just like any other occasional weekend, I spent the day alone doing what I do best. How wonderful it is that Wangsa Walk is opened before I leave this place, so I could indulge myself with the latest movies without having to travel too far. I wanted to watch
Eclipse
, but the 4.20pm session was ALL SOLD! Saturday blockbuster craze huh? "Not even one left???" "Yea not even one." Gawd. The same goes for the 5.20pm show, and all other time line except 12.10am! Since I was already there, I didn't want to just head back without watching something. So guess what was my back-up plan?
The Back-up Plan
! I was lucky to have gotten myself a nice seat out of only 3 unoccupied seats at that point of time. I had gotten myself free tickets for the movie screening earlier on but couldn't make it as I wasn't in KL. It turned out to be a rather good movie, but now that I've watched it, the idea of having a baby (or babies) freaks me out.
Was craving for Japanese rice after the movie, then I came across this new restaurant called
Octopus Sushi & Thai
(which reminds me of Paul the octopus). The waitress said there was a 15% off all sushi, but when the bill came, it was 50%! Looks like they've gotta improve on their pronunciation. Some waitress had difficulty comprehending my sentences as they're foreign workers, possibly from Vietnam or Myanmar. Over all the sushi look disgusting but taste fine. There was no name of the sushi on the menu, only pictures, so you have to be smart enough to figure out by yourselves. The restaurant was in chaos during dinner time as the crowd was too much to be handled by the inexperienced staff. I waited so ridiculously long for my Chawanmushi! Good thing it tasted fine otherwise I would have left the place being a sulky and dissatisfied customer, and the next thing you know, I would be writing shit about Octopus Sushi here.
Here are some photos taken: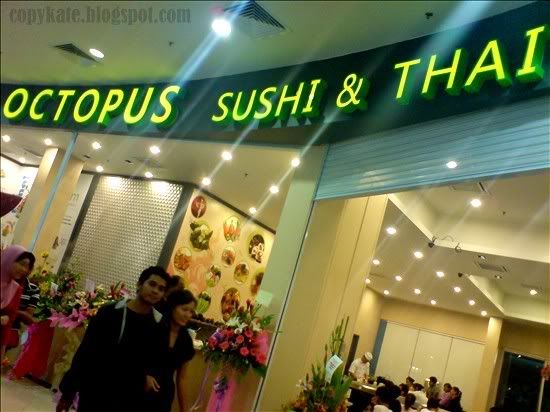 Cute Tako!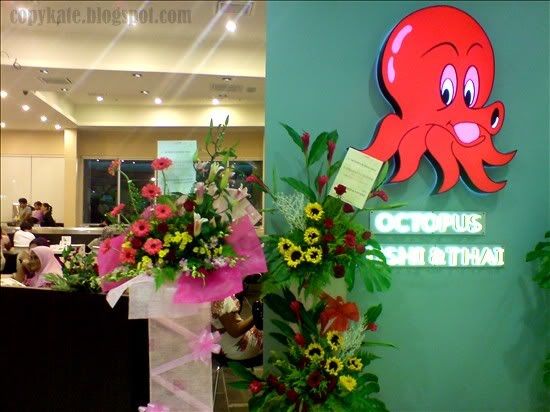 The interior.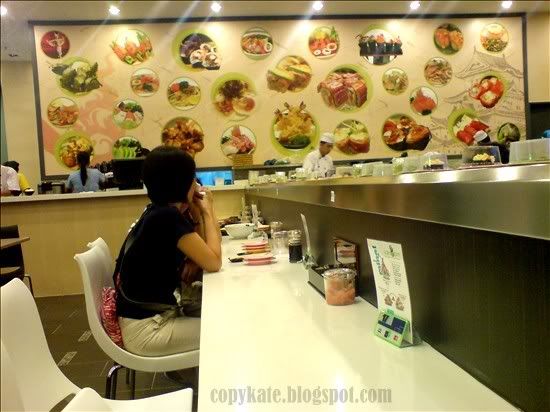 The menu. A wide variety of choice, seriously.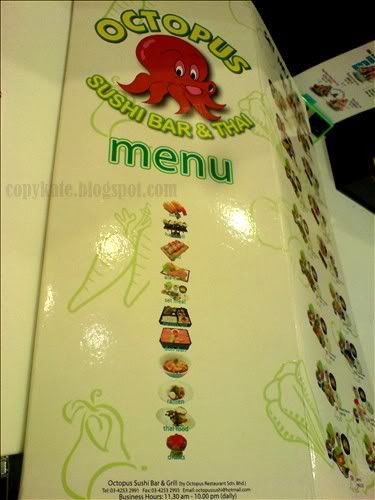 Choice of sushi is quite limited though.
It wasn't exactly appealing to me. But no doubt they were generous with the ingredient.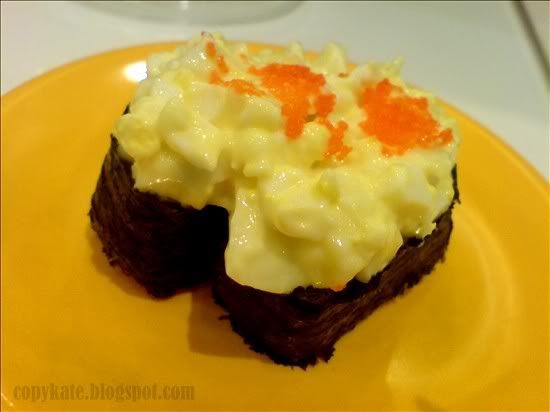 I didn't know what this was until I tried. Yummy soft-shell crab!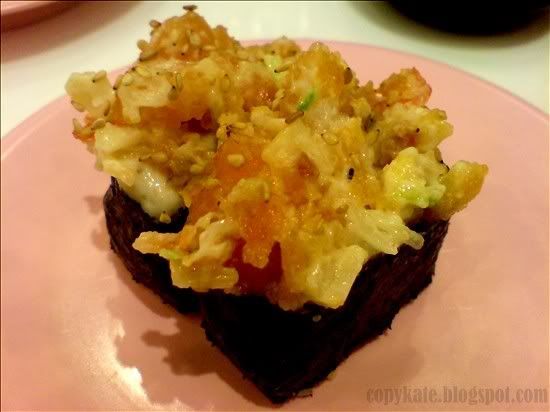 My long-awaited Chawanmushi.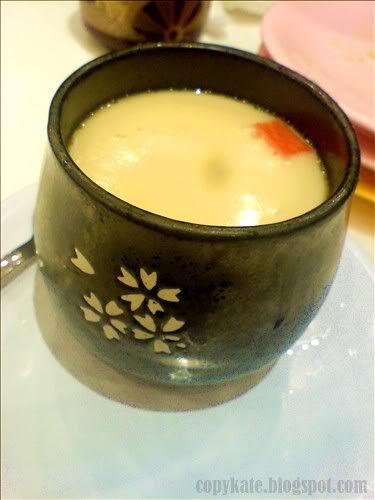 Look, it's 50% off! Opening promotion is valid till next Friday. Better hurry if you're keen for some cheap sushi!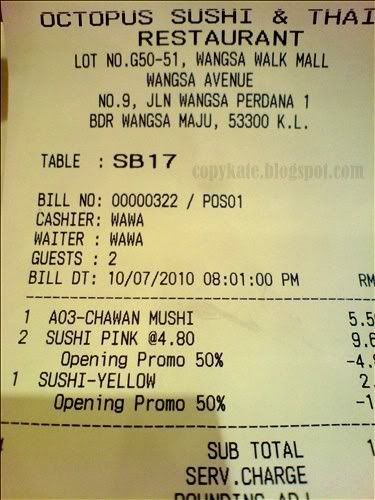 Ready to go home after dinner, only to realize there was a heavy downpour. Just like I expected, and the reason I brought along my new umbrella. I then decided to hang out in Popular a little while, hoping that the rain might reduce into a drizzle. That was where I rediscovered my forever hidden passion for books all over again. Couldn't help but to wander around the book racks, flipping through the thick pages of the new arrivals and the best-sellers, knowing perfectly well that I would not bring myself to spend a single penny on those books. No. Not now. Not when I'm broke. Not at this time when clothes and accessories seem more worthwhile. I'm sorry Sophie Kinsella and Jodi Picoult, I really love your books but I'm too kiam siap to buy them. On the other hand, why are classical novels always so dirt cheap??? RM13 for an unabridged version! Wtfreak. But I wouldn't buy it. As much as I could remember, I spent one whole year forcing myself to finish Little Women.
Moving on from the books, I had my eyes set on the stationery. Gosh, don't you love stationery shopping? I mean, look at those colourful yet affordable pen and highlighters! I need stationery, I really do. Uni is starting next week you see, and I don't wanna get thrown out of class for not bringing my
colour pencils
Pilot ball pen. At one point I was so fascinated by some photo albums and birthday cards, I had to pull myself away from the temptations with a self-reminder that goes NO-YOU-DON'T-NEED-THOSE-CRAP! A packet of pink post-it-note wouldn't hurt though, since it costs like RM2.10, and like I said, it was pink! I figured it might be one useful way to communicate with my soon-to-be housemates starting from next week. I hope they won't be too surprised to see my pink post-it-note on the toilet seat when they wake up in the morning! Teehee. Oh, it was a shame that I had to let go of the liquid correction pen after discovered the amount of cash I had in my purse. RM35 is pathetic. I didn't want to walk back home under the rain having no money to pay for the cab after spending them all on stationery =(
It appeared that taxis are high on demand during a rainy night like this. Either that, or the taxi drivers are all staying home attempting to make babies with their wives. I always have this impression that people get turned on by such weather. It took me a while to finally hail a taxi. Upon reaching home, I realized I forgot to dabao some Rotiboy. Sigh, I need my supper!