So the next day after I came back from Sibu, I was horrified to discover that my Sony Ericsson phone charger had stopped functioning. No sign of charging no matter how hard I poked it through the socket. I tried to hit it hard at first, then caress it and even spoke to it in a polite manner just so it would stop pulling the prank but none of my trick worked! Something must have gone wrong when they checked in my luggage at the airport. Perhaps my poor charger just wasn't used to travelling. At that moment, I didn't have any spare charger and I had forgotten where I kept the USB cable. I was supposed to hang out with college mate on that day but couldn't call anyone to reconfirm our plan as my phone battery went flat.
In such moment of exasperation, something wonderful came to my mind. Hey, why not just switch on my computer and call them with
iTalk WHOA
? I've topped up enough credit after all! So despite the fact that my phone battery had gone kaput, I still managed to contact them by using iTalk WHOA!
And speaking of that, iTalkWHOA is having a special rate promotion from 15th July 2010 till 31st December 2010! Special deals as follows: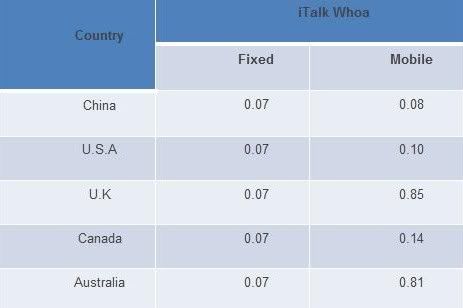 You can make freaking cheap calls to the fixed line in those countries listed! Gotta make full use of the advantage within the promotion period! Teehee.
Meanwhile, you can use the web based portal to update your twitter page besides chatting with your friends for only 10 sen per SMS. Hurry up and discover what
iTalk WHOA
has to offer!