*don't miss out my Seoul awesome clubbing experience at the end of the post!*
On day 4 of our Korea trip, Katie and I went to Gangnam, the rich area where all the celebrities dwell, or so I heard. It wasn't easy getting to Gangnam as the journey took around an hour, during which we had to cross a river.
Departed from City Hall subway station as usual. Had to do an interchange at one of the stops.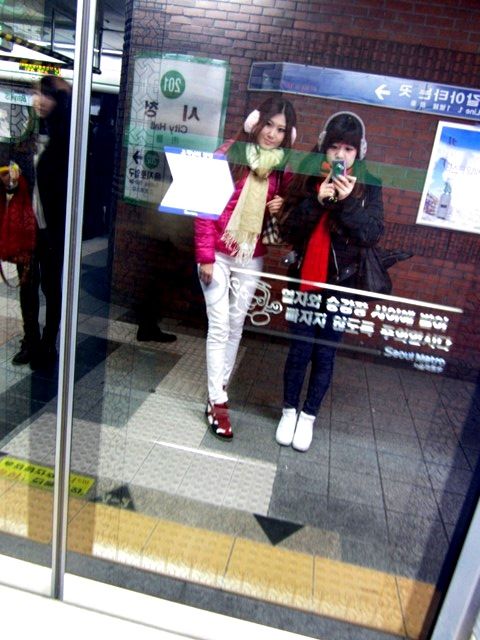 Upon reaching Gangnam, I regretted for not packing any expensive looking coats to the trip. Never been more underdressed before! Seeing those young Korean girls walking down the streets with their exquisite looking furry jacket and leather boots, I felt like an insignificant village peasant visiting the upper class of residence! To make it worse, all of them have such nice hair! You know those Korean-style hair with cute little curls only at the end of their hair? Dammit, I can never blow my hair to achieve such perfect style! :(
Gangnam is indeed meant for the rich. Along the street scattered some individual buildings of Hermes, Louis Vuitton, Tory Burch, Coach, DKNY etc, shops that I wouldn't dare step in, especially not when I was so poorly dressed. As we walked down the street, there were plenty of luxury car show rooms ie. Ferrari, Maserati, Mercedez-Benz, Peugeot etc. Of course, luxurious cars are commonplace around that area. Every 5 seconds, we saw a rich Korean tai-tai clad in fur driving past in her beautifully polished classy ride. Makes us wanna marry a rich Korean, settle down in Gangnam and being chauffeured everyday too! Especially during winter like this when the weather was under 0 degree! Dammit.
Despite it being a rich area, we had an exceptionally yummy yet affordable Korean meal at one of the restaurants. It wasn't an easy task picking an eating place since there were so many of them and most of them don't provide English menu. In most of the restaurants we went, the waiters would assume we were Japanese. That particular time, we talked to them in English, then they asked if we could speak Chinese. LOL. Apparently there are a lot of Koreans who can speak Chinese in a strong China accent due to the considerable presence of China tourists.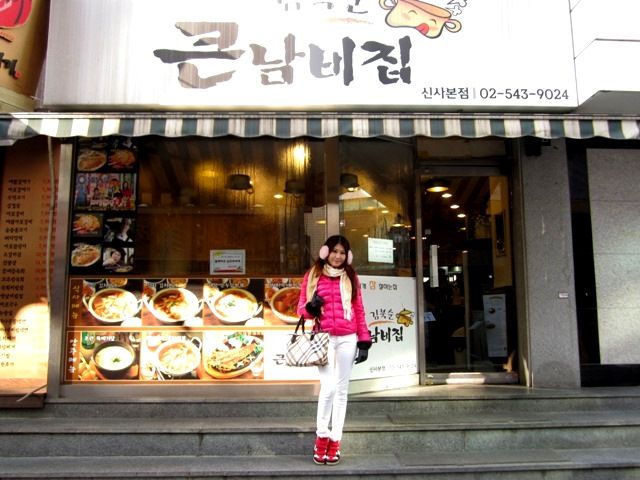 Big bowl of Kimchi Jiggae. Yummiest thing ever! (7500 won)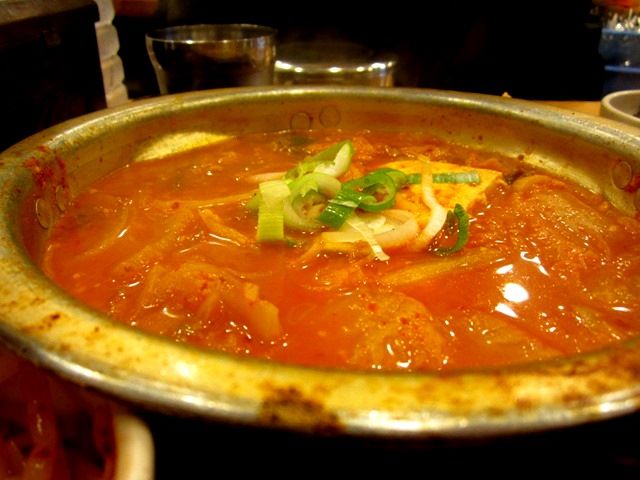 Steamed egg which tasted extraordinary! The soup underneath gathered the essence of prawn, squid and crabstick. A hundred times nicer than chawanmushi I swear! I can just survive with that and a bowl or rice alone everyday! (7000 won)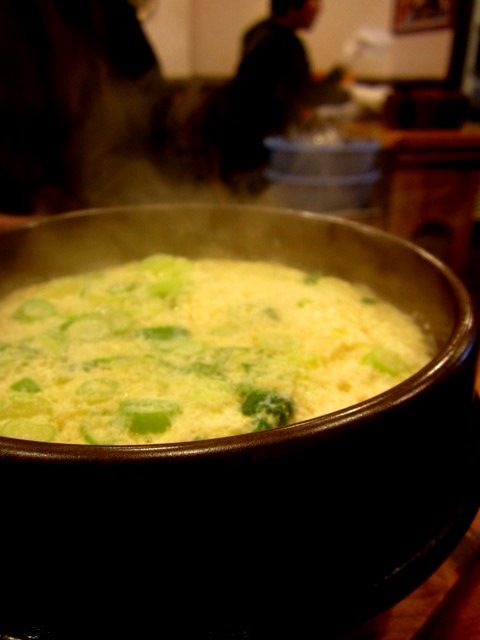 Yum yum yum! So contented with that meal!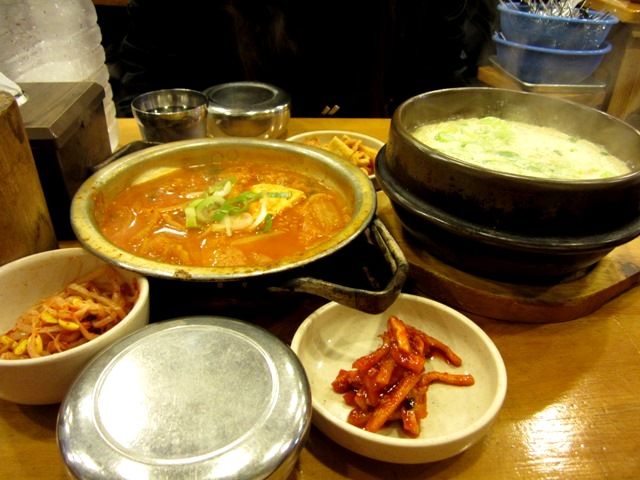 See those silver pot cover all over the wall? Each one comes with a celebrity's signature!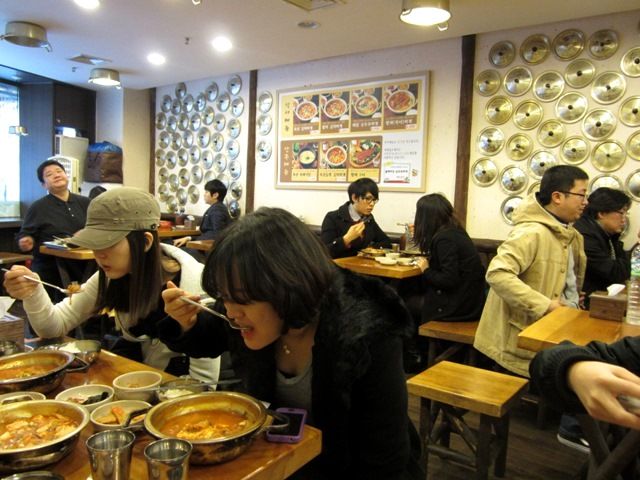 Studying the map to figure out our next stop. She die die insisted to come to Gangnam to go to the only Chrome Hearts branch T_T
It was a long long journey. We came across a Gorilla.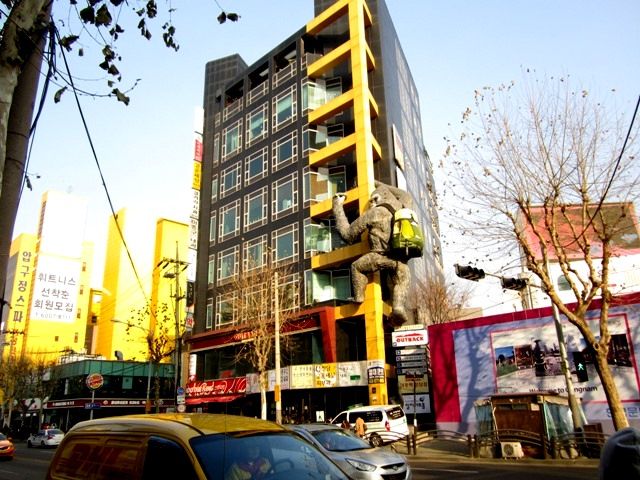 Got lost at some quiet back lane, at the same time freezing like 2 homeless orphans.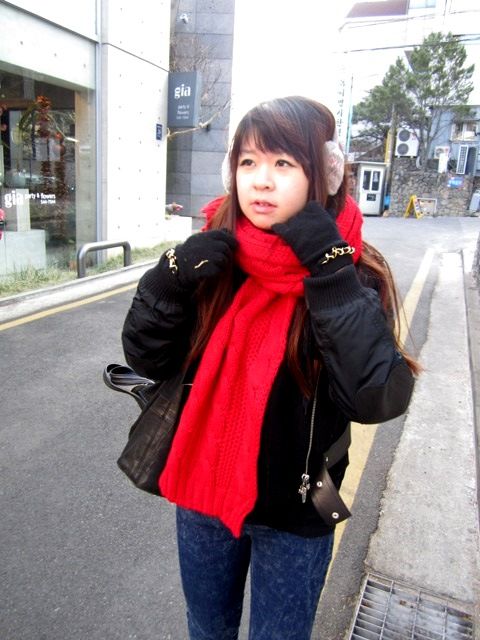 And arrived at my kitchen located at the quiet back lane *proud*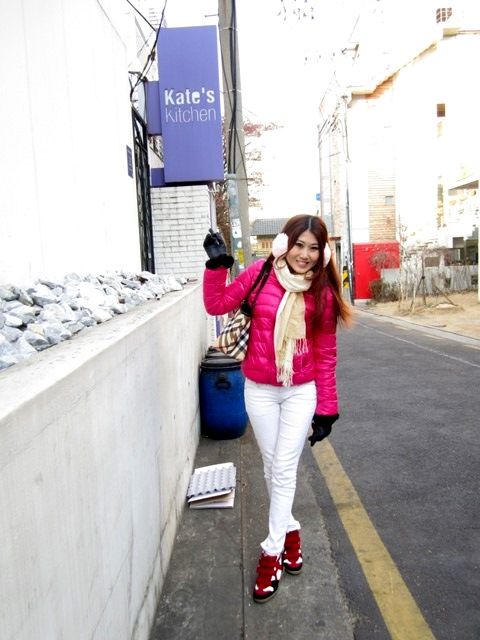 Touring around with no knowledge of the place, accompanied only by a piece of map. We oughtta be 2 big brave girls. Teehee.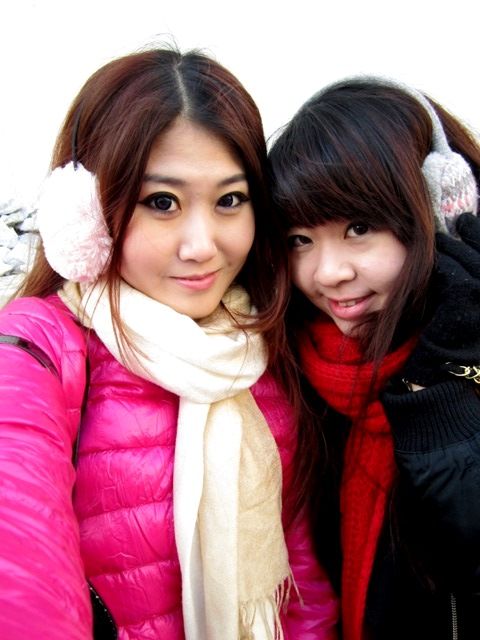 Guess where we passed by? SM Town, where celebrities like Girls' Generation, Super Junior, TVXQ and SHINee were born! (not literally born of course) Looked rather dodgy from the outside, but can you imagine what amazing daily routine was going on inside that little building???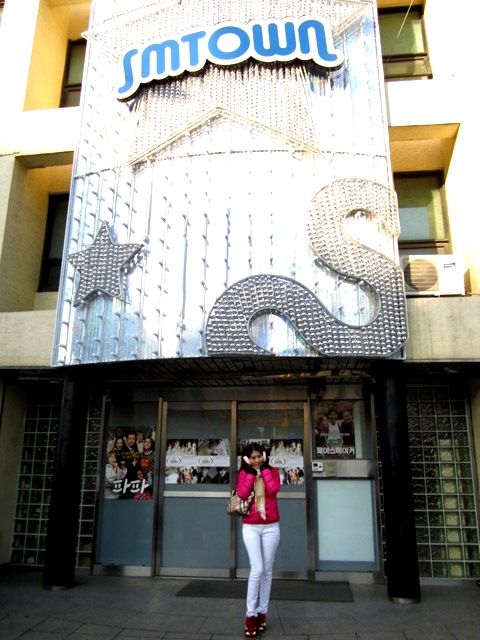 Found Chrome Hearts, finally! Gosh. After all the trouble, I told her she'd better buy something. Managed to snap a photo before the sales personnel came out and stopped us. Yerrr not even allowed to take photos outside :(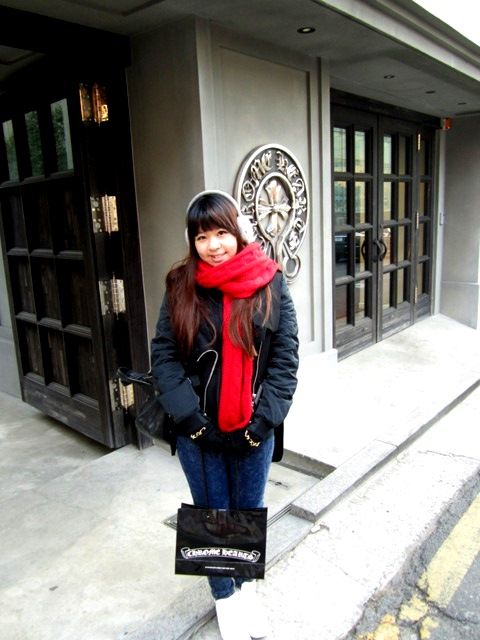 Yea, so she bought something. A Chrome Hearts tank top that cost like 160,000 won which was almost RM500! Dafuq. Her verdict: it makes her look extremely skinny with invisible tummy! *speechless* no wait, actually one of the reasons is because Park Bom owns it too? That shall explain it all, crazy Bommie fanatic!
Initially it was a group trip of 4 that include me, Katie, Jing Jing and her boyfriend. But her boyfriend wanted to stay in a classier and pricier hotel which was 2 stations away from ours. Somehow Katie and I forgot to rent a phone at the airport, and unlike Thailand, South Korea does not simply sell sim card to any foreigner. So without a local number, we couldn't contact Jing and her boyfriend. The only time we met up was at Coex Mall when I had to insert a 500 won coin into the public phone.
It was a brief meet up session. Had our usual coffee break at Café Pascucci – best one so far!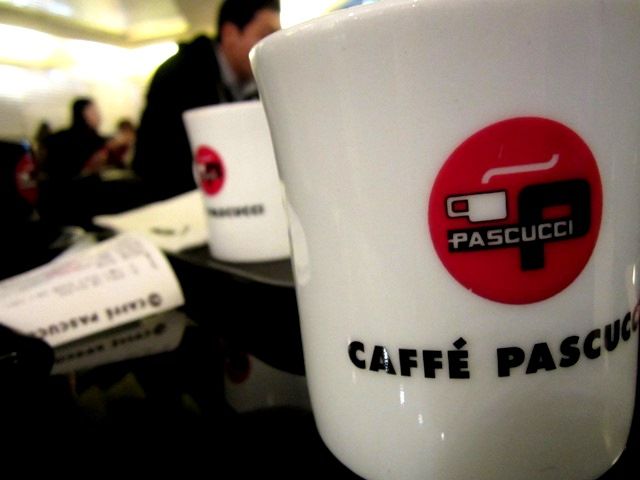 Caramel latte and tiramisu. No photo with Jing because I FORGOT! Ugh. And we kinda assumed that there would be a second meet up but it didn't happen *sad*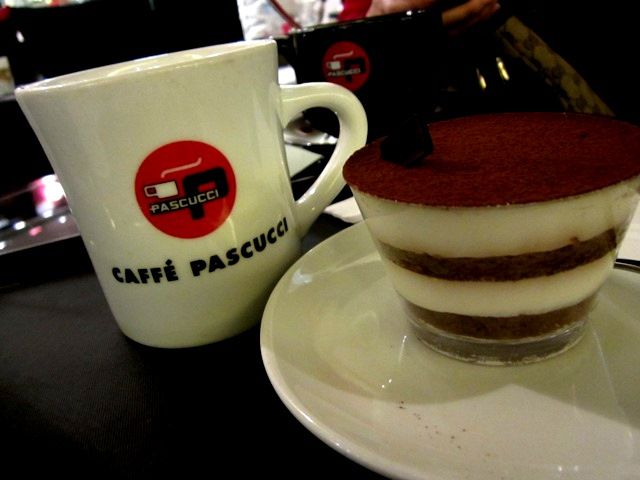 Bought some Etude House product for like the 5th time. Cost me RM200 this time. Wtfreak.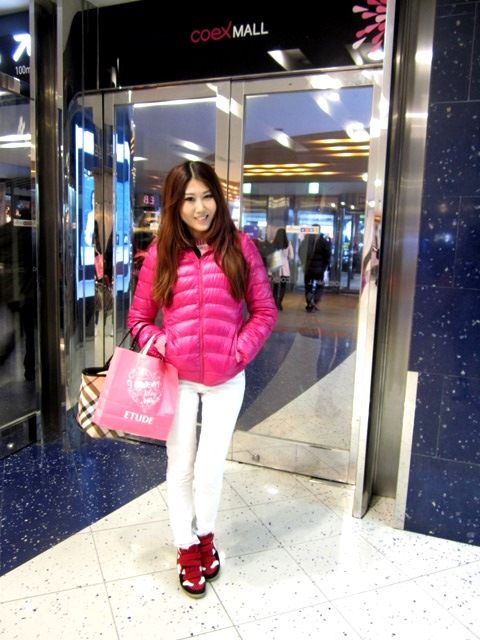 And look who we found!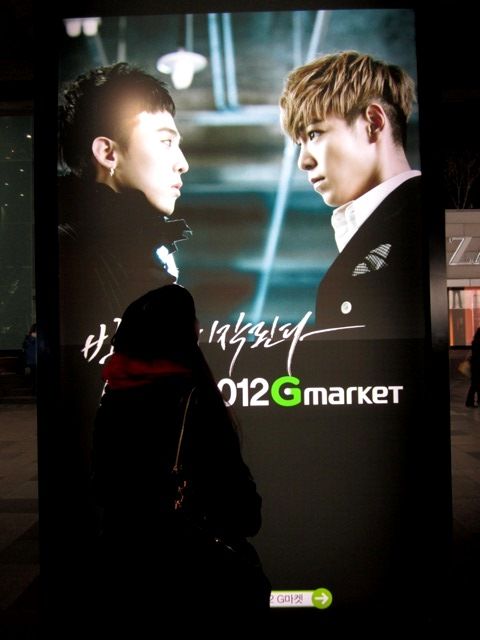 SO SEXY I CAN MELT!!!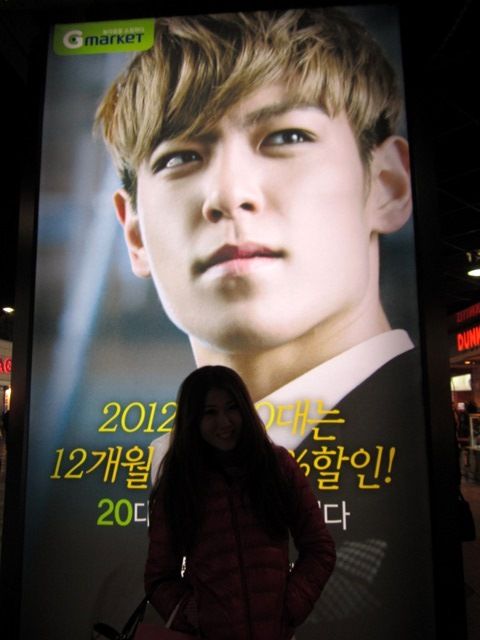 An effing cool poster of Big Bang for G Market! Y U NO advertise in Malaysia???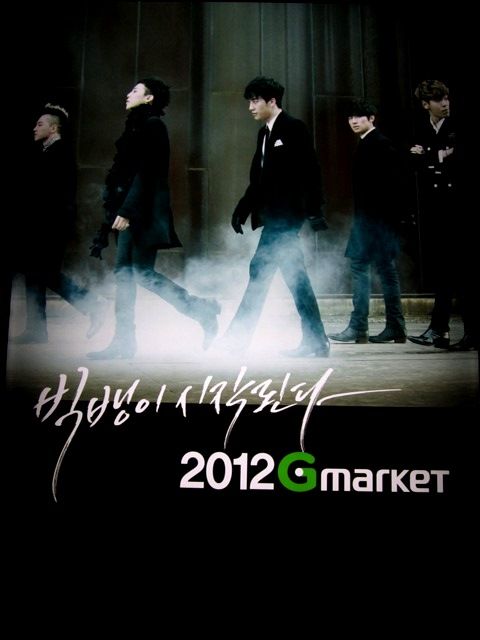 The night view outside Coex Mall.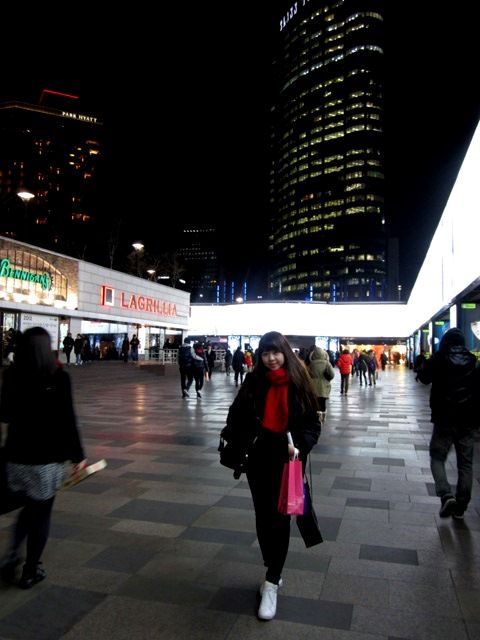 Took the subway back to the hotel to prepare for our first clubbing night in Seoul!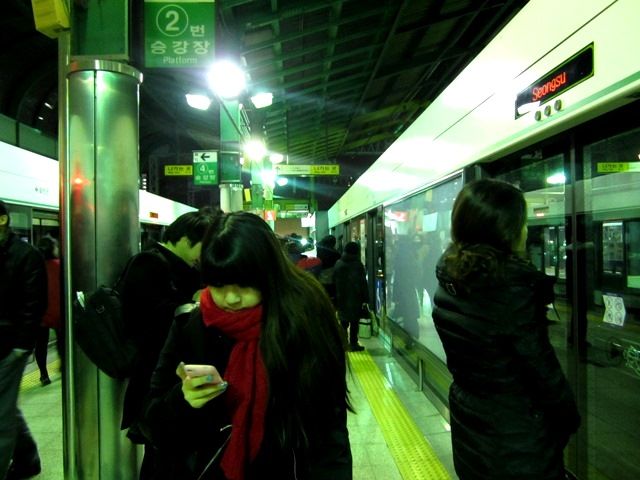 Before I start rambling on our clubbing experience, let me show you Katie's purchase of the day. Mine was just a paper bag full of Etude House's products so didn't bother to take a photo of it.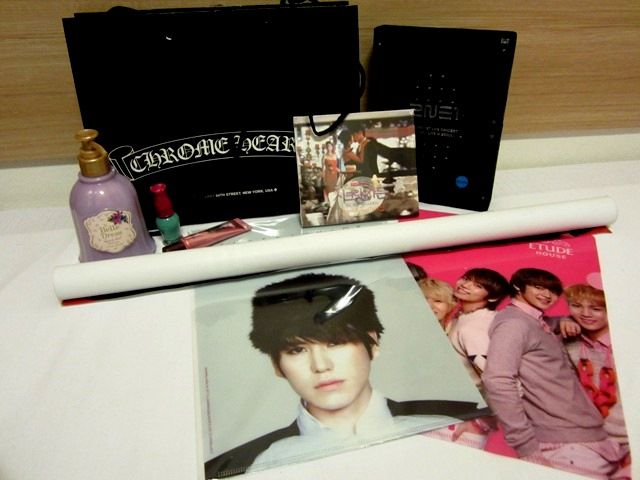 You know how every time you step into Zouk and you're like ahh the same music, the same drink, the same people over and over again? Well clubbing in Seoul was definitely a whole new exciting experience for me! It's the kinda feeling that oh no one knows me here I can go crazy all night long and not worried about bumping into familiar faces or being the central topic of back stabbing friends! And those extremely hopeful thoughts that any minute you would meet a hot Korean dude who looks like one of those boys from Korean drama! *drooooooools*
But compared to our summer-all-year-long country, clubbing during winter wasn't an easy task. One does not simply walk on the street with bare legs during winter, not when the temperature was below zero Celsius. On the other hand, wearing thick denim pants and taking them off in the club was too much a hassle. So our only solution: leggings. Even under the protection of leggings, my legs still shivered like mad under the cold. Of course, the club entrance provides a big nylon bag at 3000 won for us to keep our winter coat and stuff.
It was a Friday night. It took us some great effort to finally squeeze our way through the crowded subway exit at Hongdae. It was past eleven, but the street was lively! Our pouches weren't big enough to fit our phones, so all we had was passport and cash. With the aid of the subway station's map and a station officer who could barely speak English, we found our way to Club NB, which was located down the street of Hongik University! Queued up, paid 15,000 won (RM45) cover charge, striped off our puffy coats and ready to rock the night!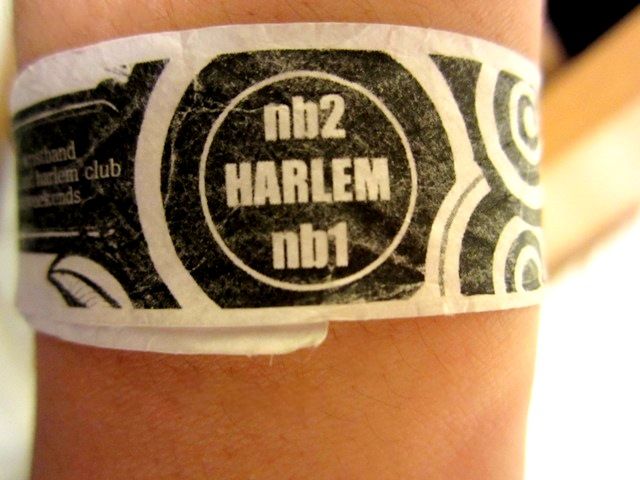 Apparently on weekends, for the 15,000 won we paid, we get a wristband that grants admission into NB1, NB2 and Harlem club which were opposite each other. In other words, when you get bored of one club, you can always hop to another at no cost. Except the only cost is probably the nerve breaking cold you have to suffer on the way from one club to another with your skimpy clubbing outfit! Seriously, you can never imagine how fcking cold it was when I ran to the opposite street wearing my thin sleeveless clubbing dress! Every step I took was a big success. Along the way, Katie even risked slipping and falling on ice that formed on the ground.
Reason we chose NB as our top clubbing destination despite negative comments of it being crowded: it belongs to YG Entertainment! Apart from the usual English club songs, they played Korean songs (from YG, of course!) like:
2NE1's I am the Best. Omaigwd. Katie's favourite.
and Big Bang's High High!!!
These were all the great music played at NB1. But despite the good music, the guys there were rather disappointing. All CMI! Whatever happened to all the hot Korean dudes??? We stayed around the dance floor hoping to catch some eye candy, but all we got was a bunch of guys who kept doing synchronized dance moves altogether! Really, I had never seen something like that in my life! Idk whether to call it gay or cute. They had the same dance moves like those you see in Korean boy bands! And they were doing it in the club! On the dance floor! There was one particular guy who kept doing this hand gesture: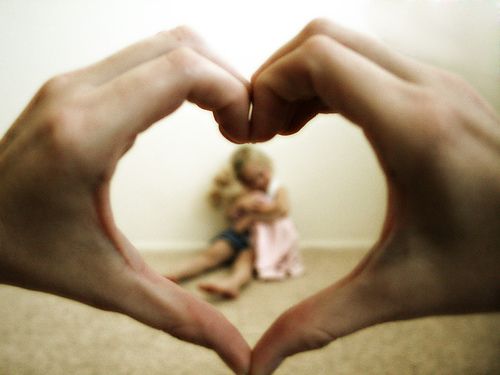 I don't want to live on this planet anymore stay in this club anymore.
Told ourselves to bear with it a little more, maybe it was still early. But nah, no sight of hot guys even past midnight. Devastated, we went across the road to NB2 which was twice times more crowded than NB1! Wow, not bad, the more people there are, the higher the chance we would bump into someone hot. With our new found hope, we made our way to the dance floor. Then I got the biggest shock of my life!
Aggressive horny young Korean pervert guys!!! They were everywhere!!!
No no, I am not being judgmental but every step forward, we were grabbed tightly from behind by some dudes! Every single step, I swear! I wouldn't have exaggerated if it only happened once. Horrified, we sneaked out of the crowd after what seemed like 20 times of groping and ran upstairs for some air. Under a half tipsy condition, I accidentally found my way to the VIP section but was stopped by the bouncers. Confused and half-embarrassed, we wanted to walk away. But for some reason the bouncers just came pulling my hands and invited us inside, leaving me more confused than ever. I guess dressing up sexily really put us to an advantage. But the "sexy" I meant is actually common back here. We weren't wearing anything extraordinary revealing, but instead just normal dresses plus plain black opaque leggings. But you know what, compared to the girls there, we were like the sex goddess! I know this is unbelievable since we are talking about Korean girls here who are supposedly have pretty faces and long legs. Too bad it's winter, and during winter these girls visit the club wearing long sleeves, long pants and even worse, sneakers!
Now that shall explain why the bouncers were so keen to invite us into the VIP section. "Bouncers" might be too harsh a word to name these people, since they're skinny, lean and are of average Asian height. I guess it must be hard to find fat or heavily built people in Korea.
Here comes the best part. Are you ready for it?
We walked around the VIP section and went into the lounge area. Sat down at the bar 2 seats away from 2 guys oh my holy tequila for the power of big bang guess who was that????!
Seungri!!!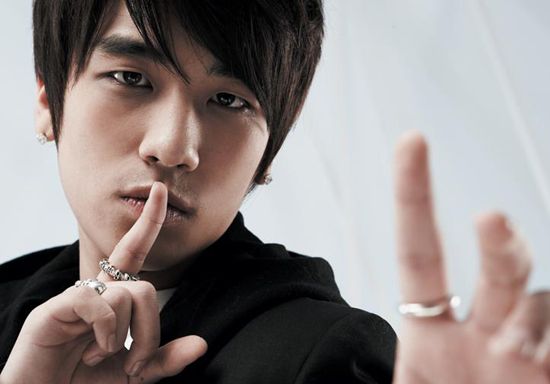 "Shh, don't tell them it's me." (LOL my self-made lame caption.)
Seungri and his male friend just checked us out! HAHAHAHAHA.
Ok la to be honest I didn't quite recognise him at first. I always thought Seungri looks like a typical Korean so it didn't occur to me that it was him until Katie pointed it out.
Sure, it was our dream to bump into Big Bang at NB, but who would have thought our dream would actually come true??? Fine, we didn't meet TOP, but still, meeting Seungri simply meant we were one step closer to Big Bang! Teehee.
I'm not a big fan of Seungri but I cannot tahan these bitches who kept surrounding him! So despite their presence, I went up and danced with him! (with the encouragement of Katie and the effect of tequila of course, else I wouldn't have had such courage). Man, he sure is skinny! He was wearing a black t-shirt with a mask hung around his neck, a mask which he constantly put on (no point la everyone knows you're Seungri please). What I dreaded the most happened! Seungri whispered something to me in Korean and I didn't understand it! Dammit! At that very moment I felt like my whole life had been wasted because I haven't been learning how to speak Korean! Le sigh. So I told him Hangguk sarang animida (I'm not a Korean), to which he was startled and didn't know how to respond because he can't speak English. Zzzzz why am I so stupid??? :(
After dancing with Seungri for a while, we proceeded elsewhere to look for free drinks. That night we learnt how unnecessary it is to purchase your own drinks in the club if you're a girl because it's an easy peasy task to make someone offer you a drink. LOL. And also, because the cheapest drink there cost 10,000 won which is equivalent to RM30 for one small tequila shot! Wtfreak.
The club was small and there was no need to fear about getting lost even without a phone. That night, Katie and I got back to the hotel safely by cab. That was our first night in NB, but not the only night. Went back to the club 2 days after!
Some bastard must have grabbed my wrist real hard.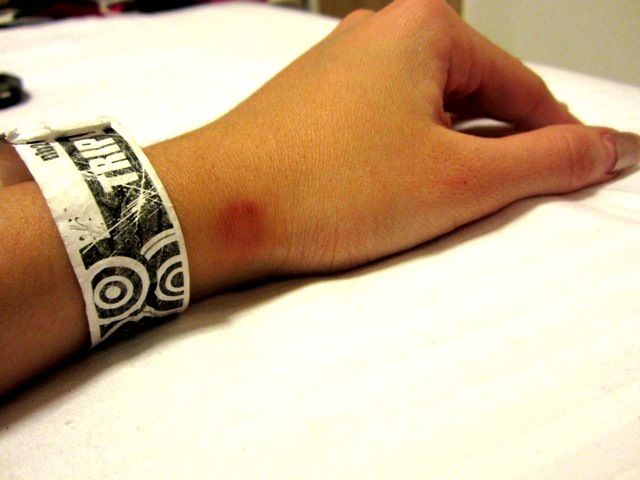 Nevertheless, it was an unforgettable and awesome night thanks to the presence of Seungri! ♡