Big Bang is back! Finally, the long awaited 5th mini album! Check out my latest wallpaper. As usual, they look sizzling hot!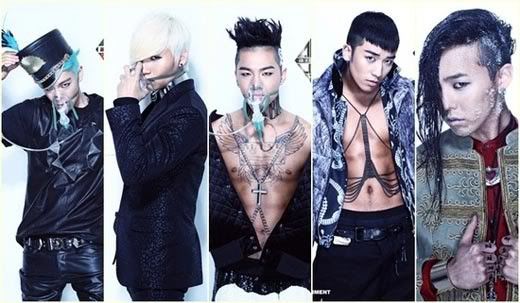 Yesterday, their new song "BLUE" was uploaded onto Youtube and so far it has hit 1.5million views!!! #BIGBANGBLUE was even trending on Twitter! Omgosh so proud of my love! XD
I can't stop hitting the replay button. My beloved TOP looks great even with blue hair! And I've finally developed some new love towards Taeyang! He looks so effing cool in this video omgosh bringing back the bandana style yo!
Watch the MV!!!
Big Bang – BLUE lyrics:
Kyeou-ri ka-go bomi chajaojyo urin shideul-ko
Keuri-um so-ge mami meongdeu-reot-jyo
(i'm singing my blues) paran nun-mu-re paran seulpeume gildeulyeojyeo
(i'm singing my blues) tteunkureume nallyeobonaen sarang oh oh
Gateun haneul dareun gos neowahna wiiheomhanikka neo-ye-geseo tteonajuneun geoya
Nimiran geul-jae jeomhana bikeobhajiman nae-ga monna sumneun geoya
Janinhan ibyeo-reun sarangye (mallo) keu eotteon- maldo wiiro twehl suneun eopt-da-go
Ama nae insaengye majimag mello magi naeryeo-oneyo ije
Taeyeonaseo neol manna-go jugeul mankeum sarang-ha-go
Parahke muldeu-reo shirin nae ma-eum nuneul kamado neol neukgil su eoptjanha
Kyeou-ri ka-go bomi chajaojyo urin shideul-ko
Keuri-um so-ge mami meongdeu-reot-jyo
(i'm singing my blues) paran nun-mu-re paran seulpeume gildeulyeojyeo
(i'm singing my blues) tteunkureume nallyeobonaen sarang oh oh
Shimjangi meojeun geot man gata jeonjaengi kkeunna-go keu kose eo-reo bu-teun neowahna
Nae meorissok saekyeojin tra-uma i nun-mul mareumyeon chokchokhi giyeokhari nae sarang
Kwehrob-jido wehrob-jido anha haengbo-geun da honjanmal keu isange bokjabhan geon mot chama
Daesurob-ji amureoh-jido anha byeol-su-eom-neun bang-hwahng saramdeu-reun waht-da kanda
Taeyeonaseo neol manna-go jugeul mankeum sarang-ha-go
Parahke muldeu-reo shirin nae ma-eum neoneun tteonado nan geudaero it-janha
Kyeou-ri ka-go bomi chajaojyo urin shideul-ko
Keuri-um so-ge mami meongdeu-reot-jyo
Big Bang - BLUE English translation:
and the spring has come
we have withered
and our hearts are bruised from longing

(i'm singing my blues)
used to the blue tears, blue sorrow
(i'm singing my blues)
the love that i have sent away with the floating clouds, oh oh

under the same sky, at different places
because you and i are dangerous
i am leaving you
one letter difference from 'nim'^
it's cowardly but i'm hiding because i'm not good enough
cruel breakup is like the end of the road of love
no words can comfort me
perhaps my lifetime's last melodrama
now its final curtain is coming down

i was born and i met you
and i have loved you to death
my cold heart that has been dyed blue
even with my eyes closed, i can't feel you

the winter had passed
and the spring has come
we have withered
and our hearts are bruised from longing

(i'm singing my blues)
used to the blue tears, blue sorrow
(i'm singing my blues)
the love that i have sent away with the floating clouds, oh oh

i feel like my heart has stopped beating
you and i, frozen there, after a war
trauma, that has been carved in my head
once these tears dry up, i will moistly remember my love
i'm neither painful nor lonely
happiness is all self-talk
i can't stand something more complicated
it's no big deal, i don't care
inevitable wandering, people come and go

i was born and i met you
and i have loved you to death
my cold heart that has been dyed blue
even if you have left, i'm still here

(i'm singing my blues)
used to the blue tears, blue sorrow
(i'm singing my blues)
the love that i have sent away with the floating clouds, oh oh

again tonight, underneath that blue moonlight
i will probably fall asleep alone
even in my dreams, i look for you
and wander around while singing this song

(i'm singing my blues)
used to the blue tears, blue sorrow
(i'm singing my blues)
the love that i have sent away with the floating clouds, oh oh

(i'm singing my blues)
used to the blue tears, blue sorrow
(i'm singing my blues)
the love that i have sent away with the floating clouds, oh oh