Annyeonghaseyo! This post is specially dedicated to my fellow Muarians and of course, every one of you who loves Korean food! This post would be my personal review on the newly-opened Korean restaurant in Muar, Dong Seoul. 麻坡新开的韩国餐!
If you're wondering where it is, the restaurant is located around Pesta, the same row as the karaoke (K歌城) along the road heading to Taman Perdana. It's the shop at the corner facing the main road with a really big signboard. There's no way you would miss it!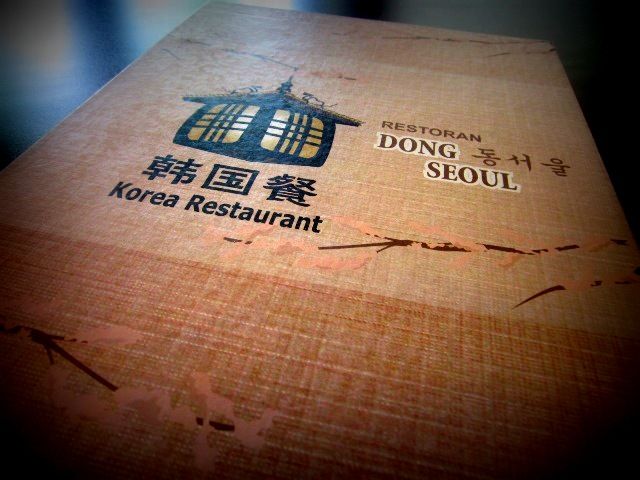 Before anything else, outfit of the day! Found the suspender is sis's den-like closet but realized I didn't have any shirt to go with it. Then I decided to raid my brother's wardrobe and found this perfect white collar-shirt! Funny cause all the while he didn't realize I was wearing his shirt until he saw it in the laundry basket at the end of the day. He was like Oiiiiiiiiiiiiiii 谁穿我的衣服???!to which we all burst out laughing XD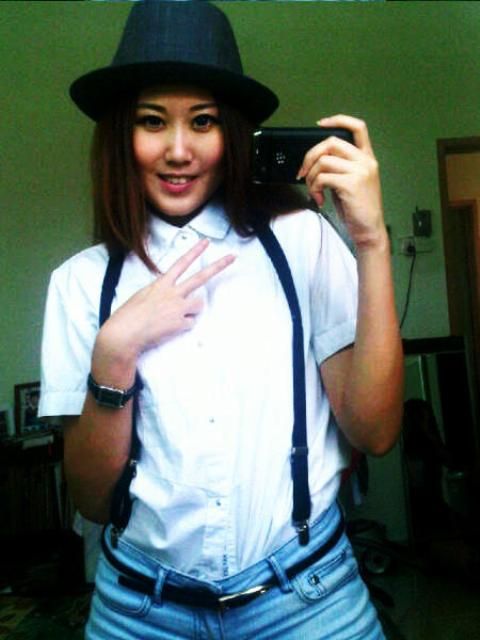 And yes, my brother is that skinny.
Simple and spacious interior with Korean-style tables.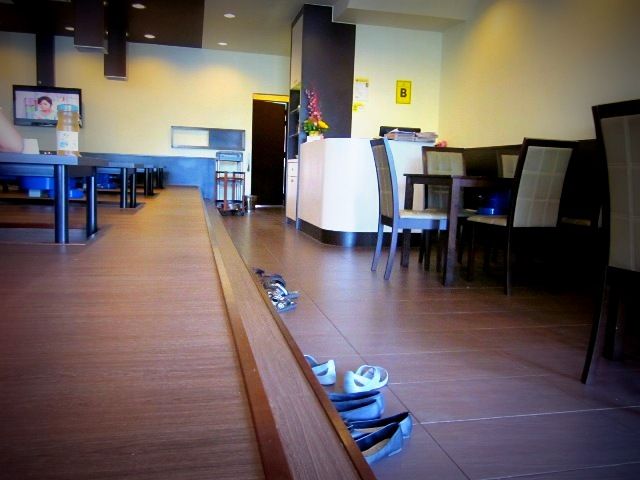 Each table is accompanied by the essential BBQ equipments.
A television hung at the corner showing Korean drama.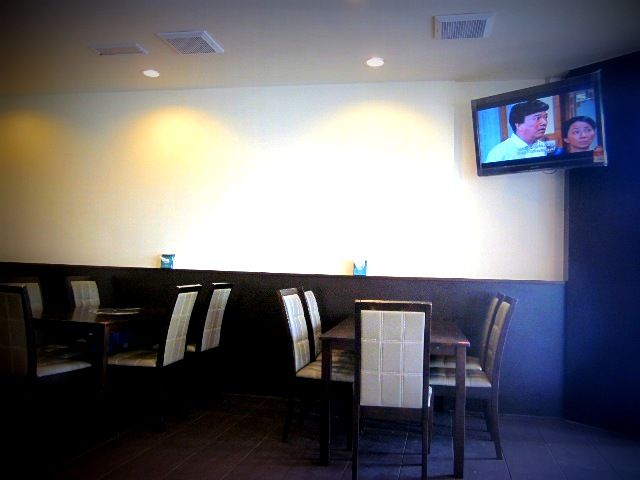 Another clearer view of the restaurant. We went there at an odd hour around 4pm so it was rather empty. Makes my life easier as I could snap as many photos as I want without being judged.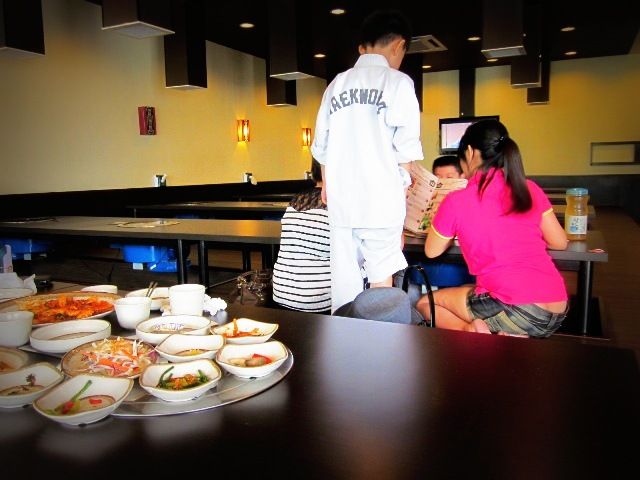 I like it that they serve tea instead of plain water. Most Korean restaurants, even those in Seoul serve plain water. Nope, it's not charged to the bill.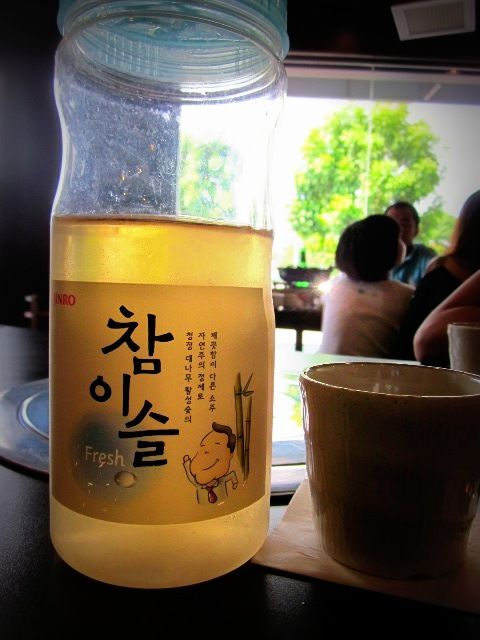 The must-haves for BBQ. The vegetables used for wrapping the meat tasted bitter. They probably didn't clean it thoroughly.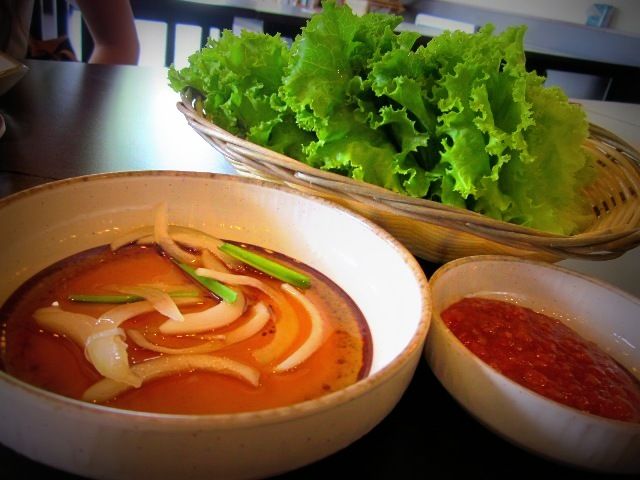 Complementary kimchi.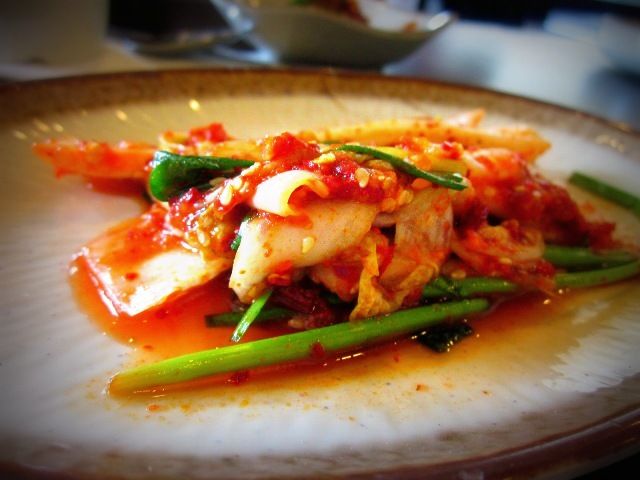 Free side dishes which is always my favourite when it comes to having Korean food! The side dishes here taste okay over all.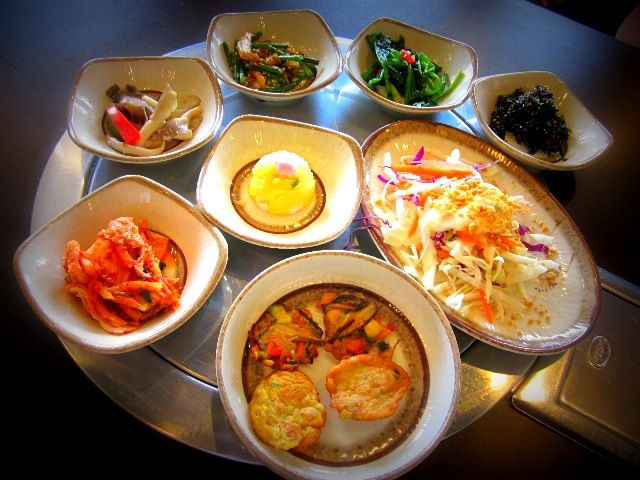 Korean pancakes.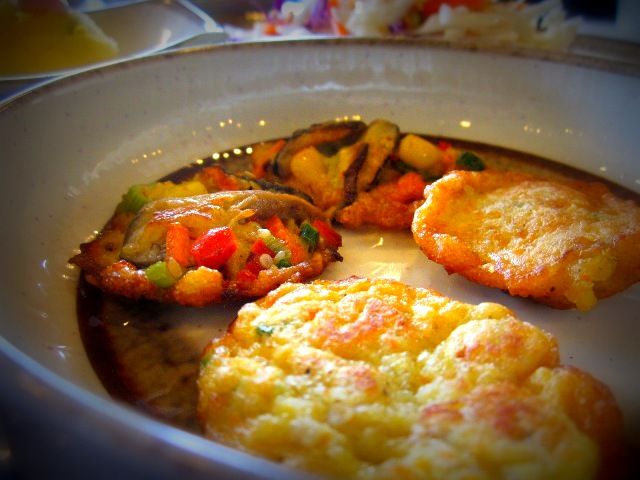 Kimchi was just nice for me since it wasn't overly sour.
Check out the BBQ set menu. Apparently Set B is enough for 4 pax! The other sets are really worth it too. I would recommend you to go there in a group.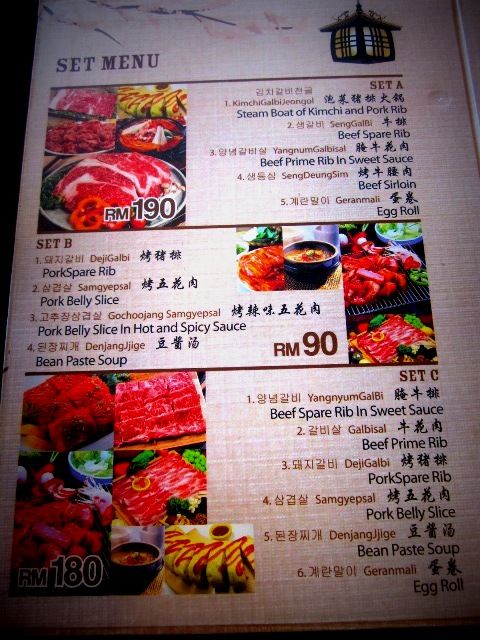 Ala carte BBQ beef.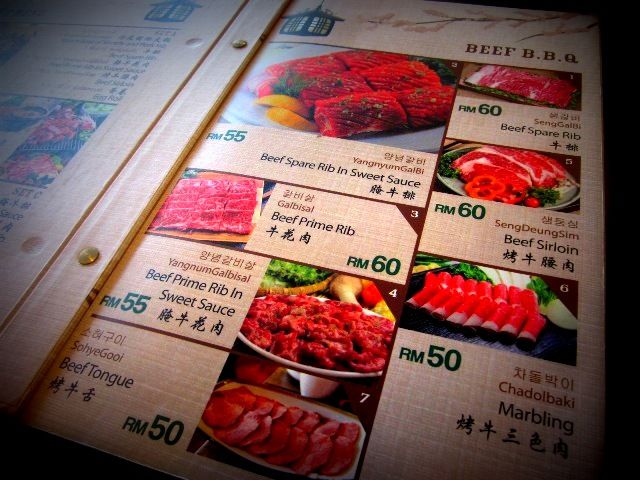 Ala carte BBQ pork and chicken. Sadly there isn't any marinated pork. Would have been a good dish.
Lunch set special menu from 11am-3pm, although I don't see what's so special, aside from the fact that these dishes aren't served during normal operating hours. Those are pretty normal food.
The drink menu.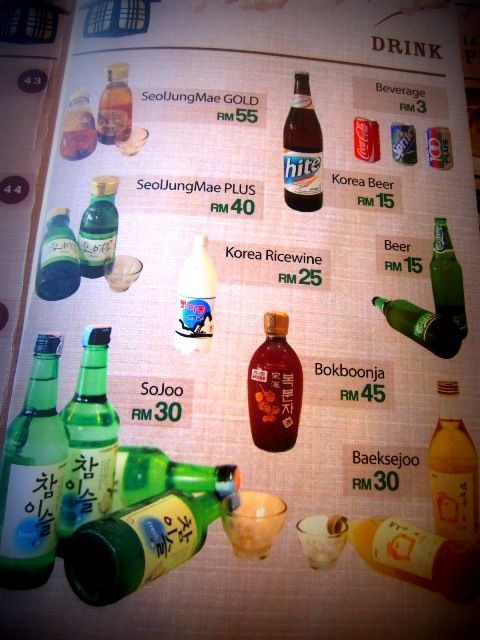 Holy cow did you see that?? RM30 for a bottle of Sojoo which I bought for RM3 from a mart in Seoul! Effing overpriced! Don't ever order that unless you think you would die without having Sojoo. Wtfreak. I heard that it is selling for RM10 in the Korean mart here.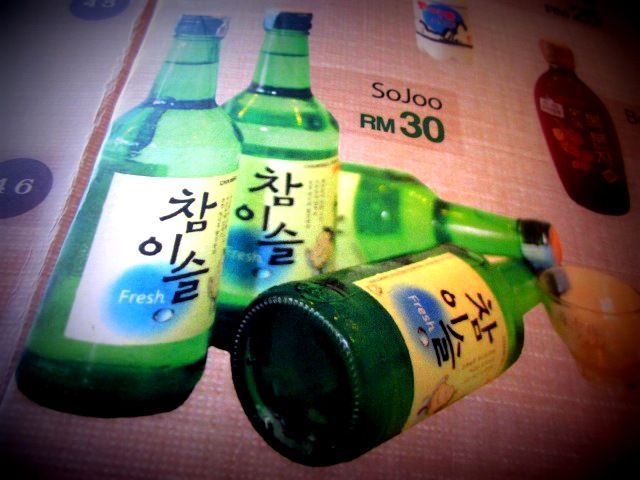 It was just me and my sis, Gigi that day so we ordered only 2 dishes. I was quite disappointed because there wasn't Kimchi Jiggae in the menu! Seriously, that's like the most basic dish! -.- They have kimchi steamboat which costs RM45 and is way too big a portion for just the two of us.
Was in the mood for Dobbuki – Korean rice cake with sauce. Don't order this if you're a fan of Dobbuki. I wouldn't say it tastes bad but the sauce just wasn't right. And they substituted the usual fish cake bean curd thingy with 2 quail eggs, plenty of onions and cabbage. What a rip off! :(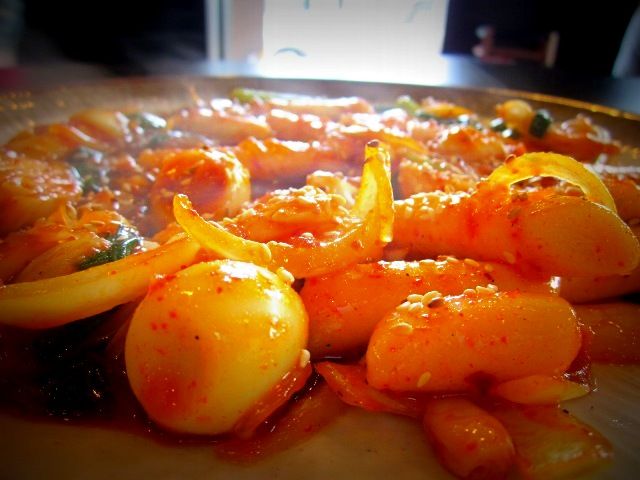 BBQ pork belly slices was good, but would have been better if they were marinated.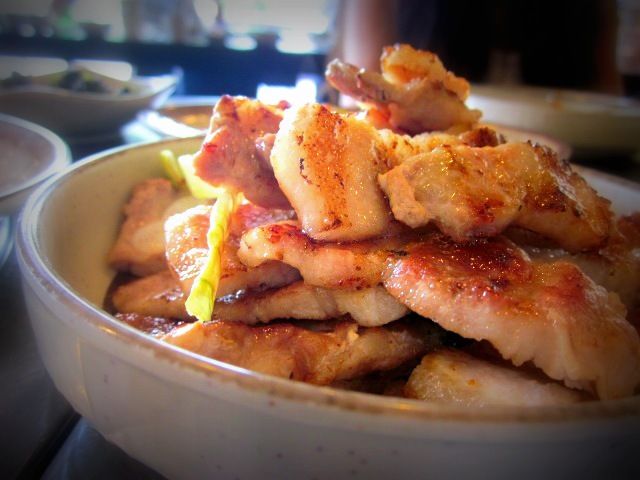 Ordered two dishes but had a tableful of food! That's the joy of visiting Korean restaurants. Teehee.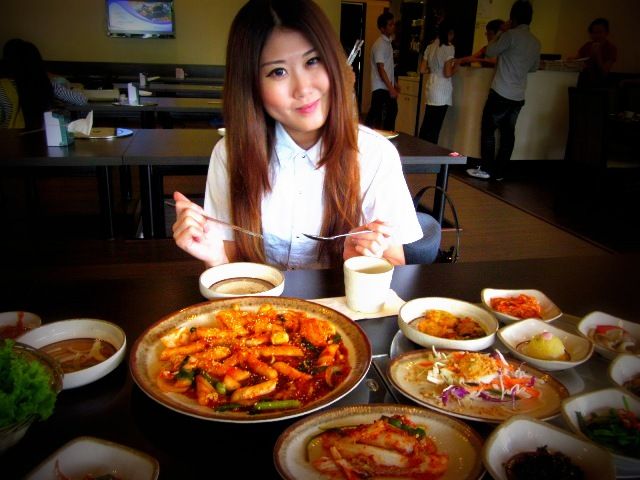 Seems a lot but nothing can beat us as we're both big eaters! XD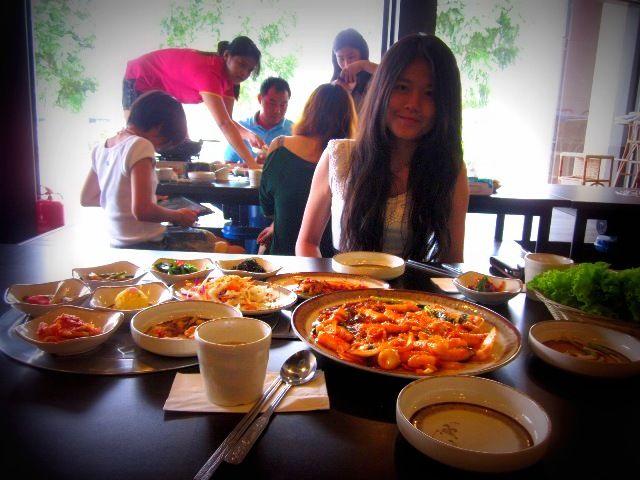 All the staff here are foreigners. Wherever they're from, when I see foreigners I usually talk to them in either English, Malay or Cantonese. This is Muar, so Cantonese was not likely. But when I first spoke to the waiter in English and Malay, he didn't seem to understand me! Oh gosh. It turns out we had to communicate in Mandarin, because like I said this is Muar. So the foreigners were trained to speak Mandarin. Okay :/
Don't ask me why I didn't bring along the other two siblings. I extended my invitation but they weren't interested. Gigi and I, being two passionate food lovers, couldn't comprehend the fact that they aren't even showing a tinge of excitement about trying out the new Korean restaurant in town! Tsk tsk.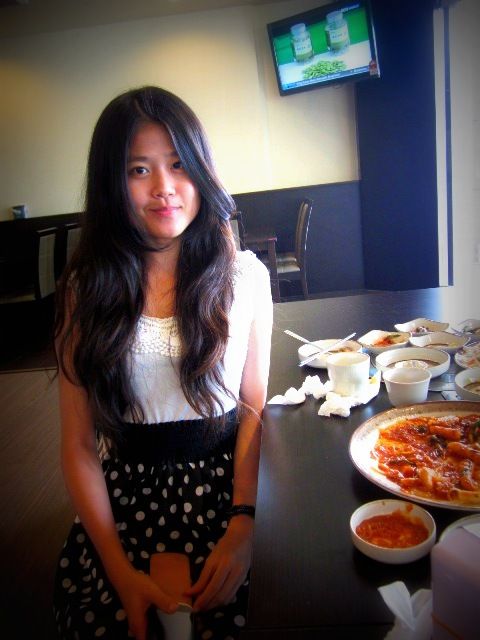 Camwhore time after filling our tummy!
Scary eyeballs. Now I look like an anime character O.O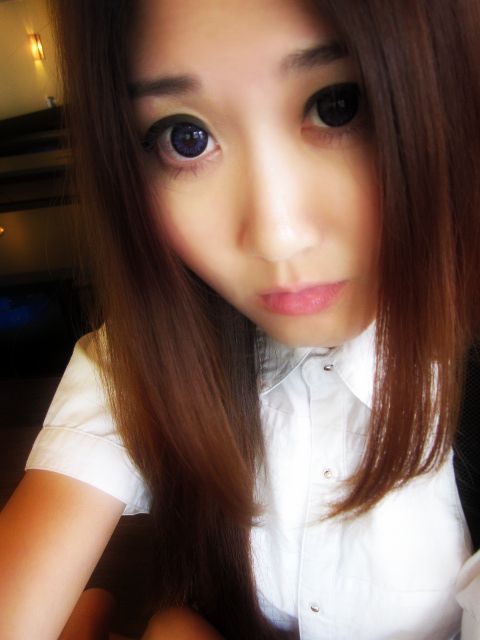 She was reluctant to take photos with me due to the contrasting skin tone. Mum asked why they were so little photos of Gigi, so I told her she said she looks ugly. Then mum got angry and gave her a lecture about how God has given her such a pretty face and how she should appreciate it. LOL.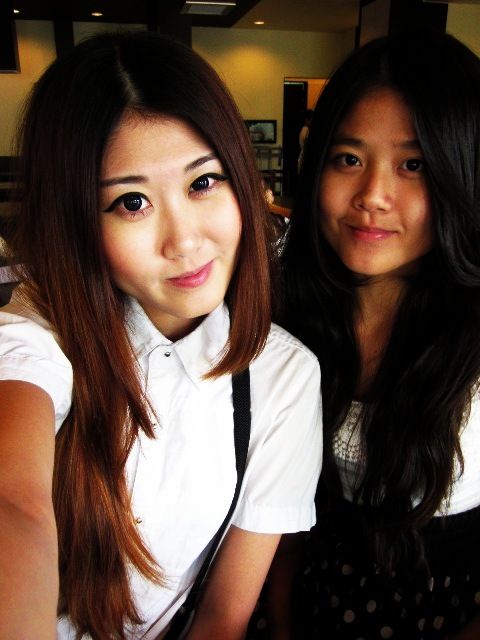 She never used to be so dark actually. It was only after all her girl guides activities and sports practices.
All the while I was taking photos of myself, an earthquake was happening at Sumatra! Didn't feel the tremor nor was I aware of the news until dad called and asked me to check my Twitter. Apparently it was so shaky in the shopping mall that everyone was told to evacuate. Dad said he felt really dizzy so he went home and sleep. I didn't know my camwhoring could cause such a big impact wtf 拍照拍到地震 T_T
On a side note, sis said the only time she could feel the tremor was when I get up and start walking. What a mega bitch!
Total bill of the day. I still think the rice cake is a bit overpriced. It usually costs RM15. Summore this one got no proper ingredient. But the rice here is cheap – RM3 instead of RM5. When asked whether it was normal white rice of Korean rice, they told me it's 韩国珍珠米 Korean pearl grain or something like that. Didn't order it so I'm not sure to which extent it's true. I'm a little skeptical since it's only RM3.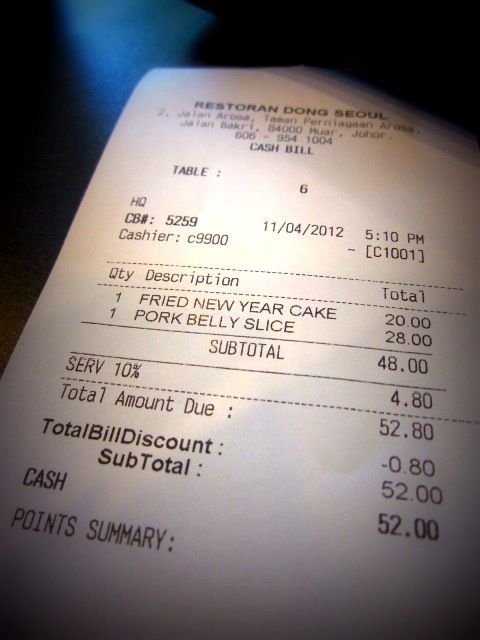 Over all my experience there was pleasant. I would definitely pay another visit there and try out other food. The food wasn't fantastic, but definitely wasn't yucky. For the first Korean restaurant in Muar, it's definitely worth a visit!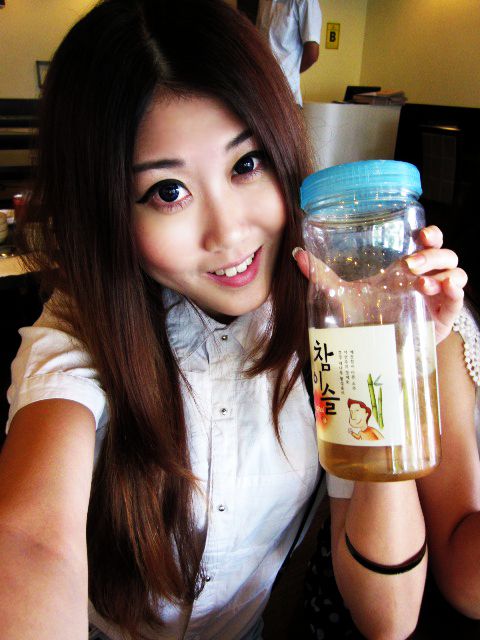 That's the end of my review. Feel free to give me some other tips if you've visited the restaurant. Kamsahamida! ♡