Don't we all love awesome parties? Now we've got XPLAY to satisfy our needs! For those who are haven't heard of XPLAY, it is a series of music events nationwide that brings various genres of music together. On top of that, there are the best local and international DJs for an electrifying show. We guarantee you will experience a party like never before!
On 13th November 2010, there will be Xplay Shout! (the pre-show party for Shout! Awards) happening at The Library e@curve to celebrate the nominees. This is when you can enjoy close-up performances by 2009 Shout! Awards winners! We're proud to reveal to you the people who will be present that night:
Disagree.
Hujan.
Mizz Nina. The queen of Malaysian hip hop scene. Don't you simply love her?
And not forgetting, DJ Ash.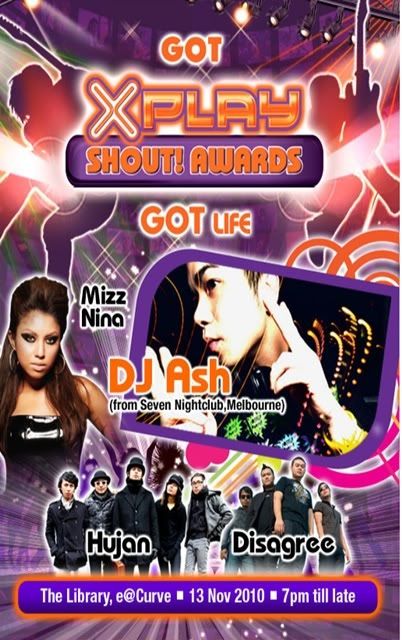 How do we get invited to this awesome party happening on 13th November? Easy! You can register for your exclusive FREE invitation from the Xpax Facebook at
http://www.facebook.com/xpaxfb
.
1. Join as a fan and click on the "XPLAY" tab
2. Register for a FREE invitation.
3. 1st 150 customers to register on Xpax Facebook will get Free Drinks as well! (If you are an Xpax or U.O.X. member, you'll get 2 drinks!)
Meanwhile, for those who want to get free passes to Shout! Awards on 20th November, all you have to do is just download 3 Call Me Tones of the Mobile Content Award 2010 nominees from
http://www.channelx.com.my
. You might be the lucky winner for the passes!
How can we afford to miss out these two special nights? Think of all the fun we're gonna have!
Quick follow the simple steps and get your free invitation! See you at the party! XD