Hi guys! Firstly I just want to say that I am now safely back in London. Well, the week before I flew off, I took a short one week holiday to Phuket just to unwind after the 3 months I spent interning in KL.
I decided that instead of the usual and same old boring holiday review of various places to visit and eat, I would do a slightly different tips and review.
One of the first thing I wanted to do when I arrived at Phuket was to book some excursions like a boat trip to visit the islands and also do some ATV riding. I was quite lucky to chance upon this amazingly friendly lady travel agent call Kan. I later on realised that she offered me some ultra competitive prices (with some bargaining of course). Expect to pay around 1000-2000 baht for a island hopping cruise ship which will bring you to places like James Bond island. The cruise excursion included free coffee, tea, water and Coca Cola all day and also a buffet lunch and two canoeing trips. For the ATV, elephant ride and white water rafting excursion, expect to pay around 1500-2500 baht. In fact, Kan was so hospitable that she even introduced some places to eat and shop which I will talk about later in this post.
Here is a photo of her small shop called Multi Travel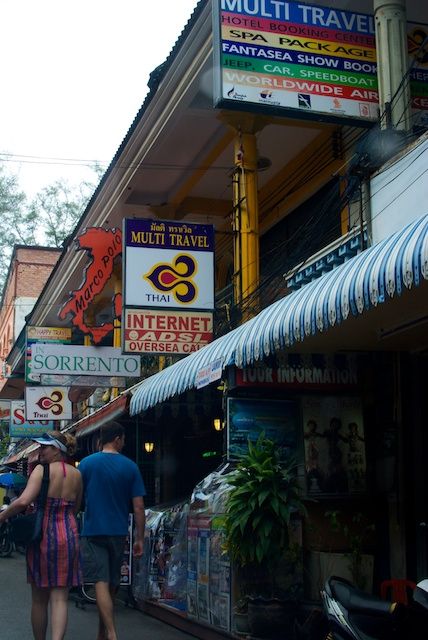 Multi Travel
Her shop is located along Patong Beach and you will have to turn into a small street called Soi Post Office right after, you've guessed it, the large and unmissable Post Office building along Patong Beach.
If you are using a GPS unit, the GPS coordinate for this street is
N 07.89148, E 098.29438
Another thing which I really wanted to do in Phuket was to get a bespoke suit tailored. Kan recommended a tailor called RK Fashion located right at the end of the same street as her shop called RK Fashions. The tailors were very friendly and knowledgable and offered a good deal too. Look to pay around 3500-5000 Baht for a bespoke suit and trousers depending on the material that you choose and the quantity of order. I was very happy with my suit and the workmanship and finishing was just top quality.
Top tip: If you are looking to get a suit made and you are on a short holiday, I would advise you to visit the tailors as early as possible in your holiday. The more time the tailors get to work on your suit and the more time for them to try the suit on you and make alterations, the better.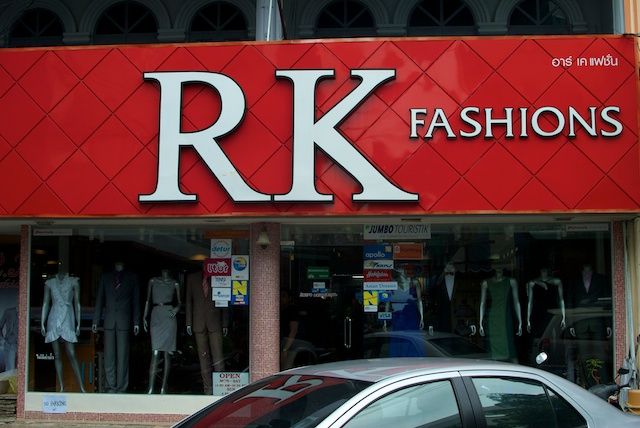 RK Fashion
In terms of food, some of the better restaurants that I discovered and were recommended to me were Sabai Sabai at Patong Beach. Once again, Sabai Sabai is located at Soi Post Office along the same street as Multi Travel and RK Fashions. So what you could do for a wonderful day out is to have a suit measured, book an excursion and have a delicious lunch along the same row of shops. I didn't manage to take any photos of the food but here is a photo of the shop.
Sabai Sabai
Visit Sabai Sabai for great local Thai food and at competitive prices too.
Another restaurant which I visited was called The Seahag located at Soi Wattana Clinic. This street is off the main road of Patong Beach next to the Sutra Hotel and McDonalds. It is unmissable.
The Seahag
The Seahag serves up some absolutely delicious home cooked Thai food. The warm coconut salad and the stuffed squid were amongst my favourite dishes.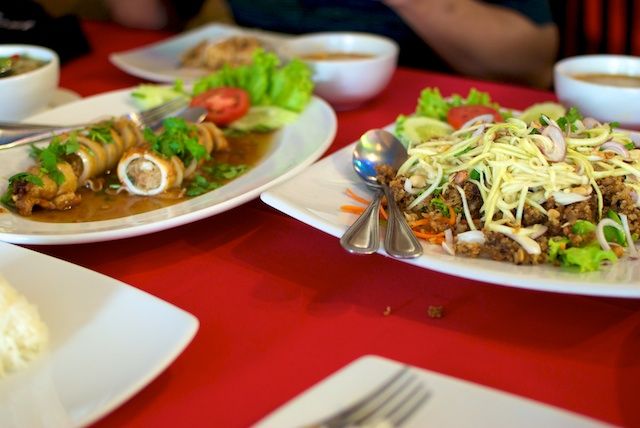 When I visited the restaurant, I initially thought that the prices of the food were more expensive than the average prices around Patong Beach. I later discovered that the portions are absolutely massive! I think the portion size in most of the eateries at Phuket were a little on the small size so I tended to order one or two extra dishes but this was most definitely a mistake at The Seahag. No worries because the restaurant offered to pack the leftovers for me which I was able to enjoy in the comfort of my hotel room the next day :D
Have you visited Phuket recently or are you planning a trip to Phuket? Let me know in the comments below and share your experiences with us.
Have a great day everybody!
Andrew
Follow @aypchua