I have never been colder in my life.
-9 degree celcius at Seoul on the first day! Can you imagine, that's worse than being kept in a freezer! At first it was quite bearable since I was all wrapped up in my windbreaker, scarf and gloves. But towards the night my hands were all numb even under the gloves and I couldn't feel my nose anymore. Was so afraid it might fall off without my knowing. Wtfreak.
Irene City Hotel is the most convenient and affordable hotel we managed to find. Located about 5 minutes walk away from City Hall subway station and walking distance from Myeongdong where many of the make up stores gather. The room is really small with hardly any walking space. After placing our luggage at one corner each, we are at the risk of knocking and banging ourselves against the closet, the table, the bed and even the television which is already nearly half the size of the wall! Nevertheless, the room seems new, clean and tidy with basic toiletries and facilities that we need. Best of all, the floor is heated so your feet won't feel cold even during winter.
Korean instant noodles from GS25 (a mart that can be found everywhere in Seoul, equivalent to 7-11 here) and Tteobokki (rice cake) the night we arrived.
Breakfast was served at Hotel Irene, the main branch of Irene City Hotel located not too far down the street. Buffet style but no variety compared to the usual buffet breakfast we have because only toast, milk, cereal, coffee and tea are served.
Went shopping at Myeongdong on the first day. There were plenty of beauty shops such as Etude House, Missha, Tony Molly, Nature Republic etc along the streets. Most of them are using free samples to entice us into visiting the shops, and when you're inside, you would feel guilty for taking the samples but not buying anything so you end up paying for masks that you wouldn't buy otherwise.
Soon we learnt not to just anyhow enter the shops. Politely accepted the free masks from a Tony Molly sales girl and walked on, but guess what? She got angry and snatched it back from us! Fcking mcb rude I swear. From then on we hold a huge grudge against Tony Molly. Pfft.
Katie and her idol Jang Keun Suk, the ambassador of Nature Republic.
Jang Keun Suk facial mask! I still think he looks like a girl T_T
Coffee break as become a daily must-have throughout our trip.
Every now and then we would pick a cafe and hide from the cold outside, and meanwhile to fully utilize their wifi! Forgot how freezing cold it was until we get out there again.
We read many good reviews on Dongdaemun market so decided to drop by there hoping to get some new clothes for the rest of our trip. Didn't know which restaurant was good so we simply picked one, turned out it was good!
My all time favourite Kimchi Jjigae with plenty of ingredient! (7500 won)
Doenjang Jjigae (Korean soybean paste stew) tastes good too! Less spicy compared to Kimchi Jjigae. (7000 won)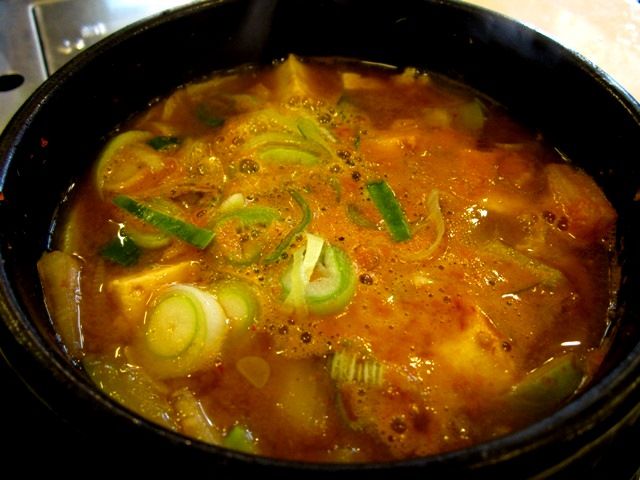 Accompanied by free side dishes!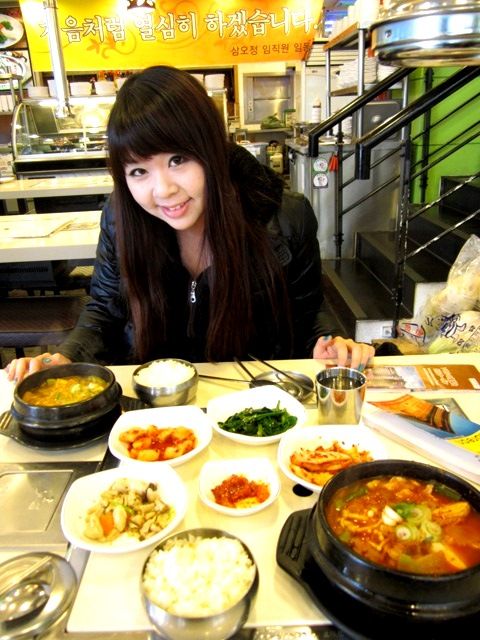 Spotted big piles of white cabbage and onions at the corner of the shop.
The restaurant ajusshi picked up our Korean phrase book and started inspecting it. But obviously he didn't understand any of the English phrases though. In fact the majority of Koreans don't speak English at all! So if you're planning to visit Seoul, make sure you prepare a handbook or download some apps into your phone to ease communication.
I failed at speaking Korean though. Didn't even put in enough effort to learn and replied on Katie all the time. Besides annyeonghaseyo and kamsahamida which I already knew, the only sentences she taught me are "namja chingu eobseoyo" (I don't have a boyfriend) and "kondom isseoyo?" (do you have a condom?) Omaigawd why did you even teach me these things??? T__________T
But I did use those new things I learnt on one of the days. HAHAHAHA will update on that later on! XD
Besides the restaurants that sell food that almost never goes wrong, there are plenty of street food everywhere you go. To be honest the weather during that time was so cold we just wanted to walk on and get indoor instead of stopping by for street food. But how can anyone skip on these yummy-looking Korean signature snacks?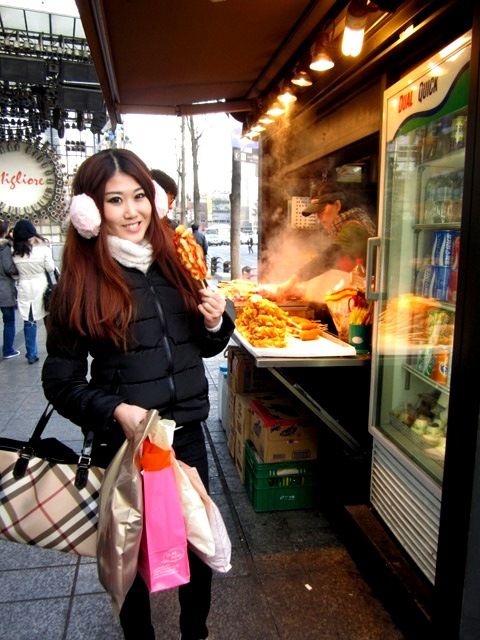 This was my previous FB profile pic that made people wonder what was that thing we were eating. It was actually Korean corn dog – sausage inside and french fries outside! A great combination or what??? I'm already used to having these 2 things with chili sauce though. But you know, this is not Malaysia and you can't find chili sauce everywhere you go, so had to settle for ketchup :(
Good Morning City, Midliore and Doota are the few shopping malls we visited at Dongdaemun. All the malls except Doota remind me of Platinum Mall in Bangkok. The building and the shops' layout especially. The price isn't as great as Platinum Mall though. Sales item are priced at 10,000 to 25,000 won which is RM30 to RM75. The 10,000 won clothes are very limited and aren't appealing. But normal items on the rack are overpriced. Left the malls reluctantly with disappointment.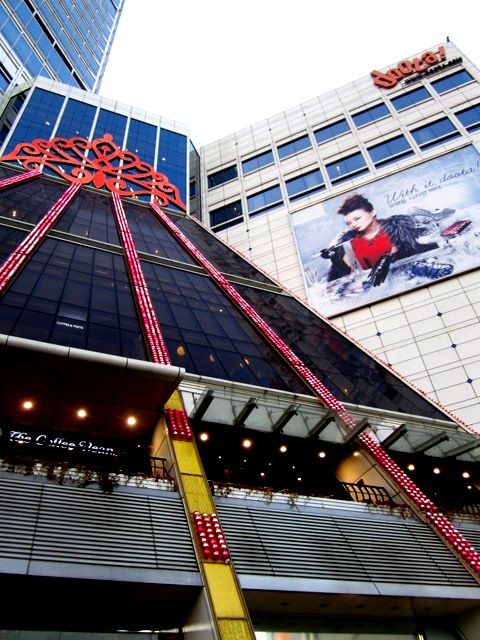 As for Doota, it was a huge departmental store that sells fixed price items. No bargaining here, which made it worse than the previous malls because everything was so expensive!
All I got at Dongdaemun was a pair of high top sneakers, 1 top and 1 dress. Had Korean fish cake, one of the most ordinary street food before leaving.
It could be cooked with spicy soup or normal soup. We tried both and as expected, the spicy one tastes way better!
Random: a cute photo of Big Bang in a magazine. Teehee.
Later on that day, we went to Ewha Women's University Fashion Street! As it was around the women's university, there were many fashionable young ladies around. Watching them really made me feel underdressed! Most of them could even walk around with extremely thin leggings under such freezing cold weather while I was shivering like mad! Did some amount of shopping there. Thought it was way better compared to Dongdaemun. Leasson learnt: always stick to the street shopping instead of shopping malls! Teehee.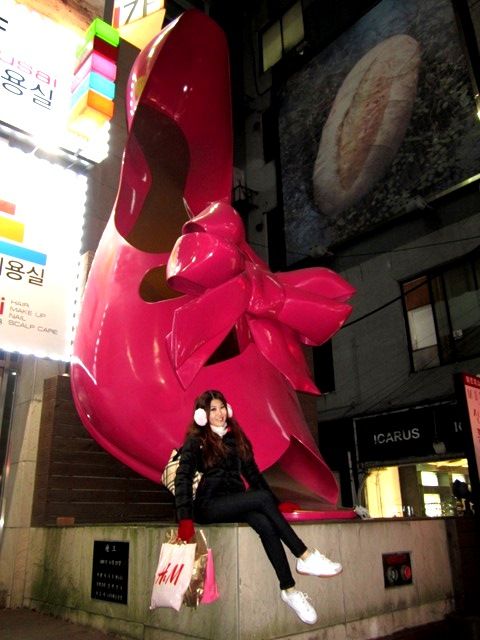 Had dinner at a cosy looking little restaurant around our hotel.
It looked more cosy than it actually was, because there was no heater inside as it was a drinking place. You're supposed to get a couple of Soju and warm yourself up.
Soju in restaurant is usually priced at 3000 won (RM9). But in the convenient store, it was sold for only 1900 won (less than RM6). Yet we thought the RM15 Soju in Air Asia flight was cheap! LOL.
Love her cute fluffy mouse ear hoodie!
Fish roe stew (8000 won). Expected it to come together with not just fish roe but other ingredients as well, but wtfreak the whole bowl was filled with fish roe! A bit jelak by the time we finished half of it.
Rice that comes with fried egg. Always love the texture of Korean rice!
Unknown object found in the soup. We called it sperm fish. I was tagged in this photo, so sis eventually asked me how does a sperm fish taste like -.-
Korean snacks and fish cake for supper! Snacks here cost RM3.50 minimum. I would have expected that bottle of normal tea to cost RM1 but it was x3 more.
Chocolate bean snacks. *nom nom*
My purchase on the first day. At that point of time I thought it was a lot, but wait till you see my next few posts! XD
Katie's purchase. See, she bought Big Bang's socks! But it would be so cruel to step on TOP's face, no? Don't ever wear them! Tsk tsk.
Thank you for reading my very first blog post on Seoul! I hope you didn't get bored with our self-centered photos! More stories and once-in-a-life-time experiences on my upcoming posts so make sure you read them!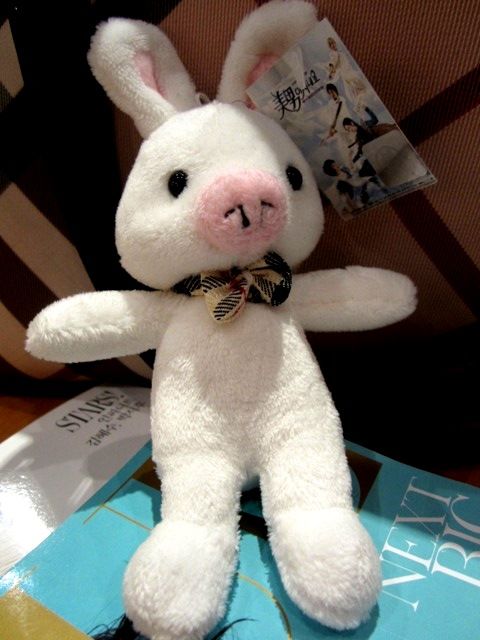 Annyeonghaseyo! ^^