I had a serious PMS last night. And this morning, I had a nose bleed, after what seems like 10 years. I wonder if both of them are somehow related.
2 days before my period due. Is boyfriend the only person who can trigger my PMS? He only said some unimportant thing last night. Normally I would just laugh it off and not take it to heart. But instead, I went completely berserk and started arguing. Well, you know how girls wish to hear something good when they're down. Reasonable arguments or whatsoever just wouldn't work. And you know exactly how guys are dumb enough to know what girls really want. So he just replied my arguments with more arguments hence prolonging the whole process of argument wtfreak. Soon, my point became incoherent and ridiculous. I couldn't help! I was so mad that he still didn't get it. I started saying stupid things like "I hate you", "You don't love me", "You don't care if I die now" etc etc. and guess what? Those unpleasant stuff further provoked him.
He did not apologize nor say something sweet to comfort me. I know in this case he had no reason to apologize. But dammit, you know how girls would stop if you start treating her better! The magic word could turn a crazy bitch into a gentle girl. However, guys just wouldn't get it. I guess this isn't their fault though, seeing that they're created way less complex than us ladies. They, the simple creature, care more about logical points, while we, the complex ones, emphasize more on our feelings. Sometimes I just wish he would stop reasoning but give in to me, even when it is obviously my fault. I know this sounds really selfish and unfair, but that is how things would work out best X(
I remember exactly how I was feeling last night. So angry that I could pluck off someone's head, at the same time so sad that I couldn't help crying out really loud. For no apparent reason, my heart ached as if it was pierced by thousands arrows. The fact that he did not understand simply made things worse. I tried to tell him directly what I want, but that did not change his attitude. He just said ok, but continued saying how I shouldn't this and that, how much it hurts him to hear me saying those things blabla. Ok? But where are the things that I wanted to hear??? Roarrrrrrrrrr. He told me it was impossible for him to say it since I had made him so angry. Wtfreak? That was really mean!
I was on the edge of bursting, so I took a short break from replying him and text my girlfriend instead. You know how girls understand you the best. Sometimes I wish I was dating a girl. Sigh. She cooled me down a little, but in the end I was overcome by my emotion. I sent him a text saying that I was really angry and included a "bye" behind. No reply from him ever since then O.o I screwed up everything, didn't I? HA-HA X(
I am feeling a little bit better when I woke up, after dreaming about what seems like a massive birthday party specially organized for me. But what happened last night was really destructive, I'm afraid. Gawd, I hate myself. Why am I like that? PMS really sounds like a good excuse. Please don't accuse me for using PMS all the time, because I think this time it really is. So sad. I hope he is angry no more. And I am still waiting to hear his good words T.T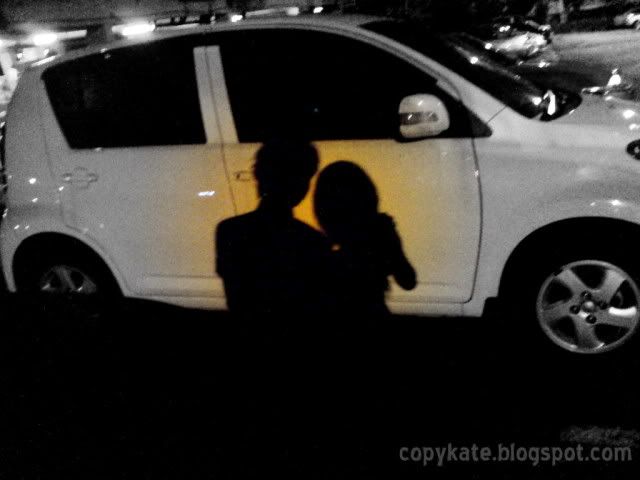 Waiting, love.